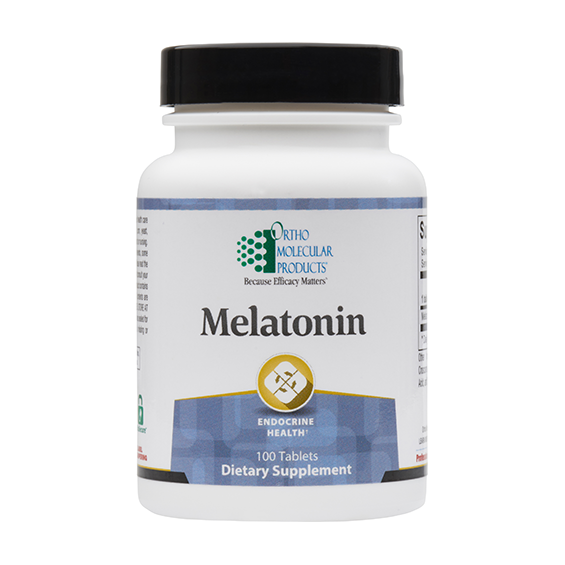 Melatonin 1mg by Ortho Molecular, Inc. 3×100 count Melatonin plays a key role in regulating the body's circadian rhythm. Melatonin can be helpful in regulating sleep cycles in individuals who have irregular sleep patterns.
CLINICAL APPLICATIONS
Encourages Healthy Sleep Patterns
Helps Regulate the Body's Circadian Rhythm
Maintains Normal Inflammatory Balance
Helps Combat Jet Lag
OVERVIEW
Melatonin is a hormone produced by the pineal gland that plays a key role in regulating the body's circadian rhythms and induction of sleep. It plays an essential role in regulating the sleep cycles, and when supplemented, can be helpful for those who have irregular sleep patterns. This formulation is available as 1 mg tablets for flexible dosing.
Suggested Use:
1 or more tablets per day or as recommended by your health care professional.
INGREDIENT BENEFITS
Deficiency
Nighttime secretion of melatonin is at its highest during childhood and decreases over time. Research suggests that melatonin supplements support healthy sleep patterns in certain individuals, such as the elderly, individuals with nighttime working hours, or people traveling across time zones.
Antioxidant Support
Melatonin has been shown to be a powerful antioxidant inducer. It supports glutathione production, and stimulates intracellular antioxidant enzyme production, including superoxide dismutase and glutathione peroxidase. It has also been found to scavenge free radicals and promote cytokine balance, which helps maintain normal inflammatory balance.
These statements have not been evaluated by the Food and Drug Administration. This product is not intended to diagnose, treat, cure, or prevent any disease.