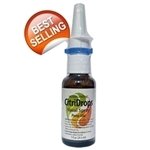 Did you know that to the The Mayo Clinic cites mold as a contributor to 93% of the cases of chronic sinusitis? The obvious fact that the specific mold spores that find their way into your sinuses are the ones causing sinusitis symptoms is often ignored by doctors and mold sufferers alike. Finally, a doctor-created, homeopathic nasal spray designed to relieve sinus congestion and inflammation caused by mold, bacteria and other seasonal allergens.
CitriDrop Nasal Spray is an effective tool for combating bacterial and fungal infections in the nose.CitriDrops Nasal Spray can be taken on the go, when sinus symptoms arise, or a mold exposure is suspected, and as an alternative to nasal rinsing. In addition, it is non-addictive, drug free, chemical free, won't interact with other medications and is safe for children to use too.
Directions: Use 2 to 3 sprays in each nostril, 2 – 3 times a day to alleviate sinus symptoms.
Indications: This product is a recommended and proven part of the Body Treatment Protocol, developed by Dr. Don Dennis, for sufferers of Chronic Sinusitis or other mold related disease.
Product Size 1 FL OZ
Active Ingredients: Ascorbic Acid 2x, Citrus Limonum 4x, Sinapis Nigra 4x, Pulsatilla 4x, Luffa Operculata 4x, Berberis Vulgaris 6x, Euphorbium Officinarum 6x, Gualacum 8x, Mercurius Sulphuratus Ruber 12x, Hepar Sulphuris Calcareum 12x
Inactive Ingredients: Benzalkonium Chloride, Purified Water, Sodium Cloride