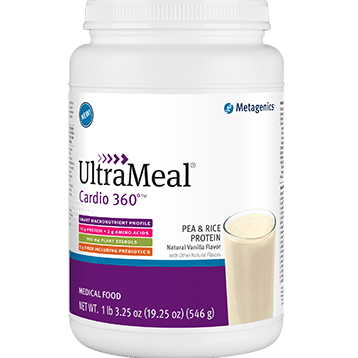 UltraMeal Cardio 360°® Pea & Rice Protein Vanilla by Metagenics 14 servings 546 grams Support for the Nutritional Management of Dyslipidemia
UltraMeal Cardio 360°® is a medical food formulated to provide specialized nutritional support within a nutritional management program for dyslipidemia by supplying a combination of phytosterols, bioavailable xanthohumol from hops (XNT ProMatrix®), beneficial macronutrient profile, 5 g of prebiotic isomalto-oligosaccharides, antioxidant nutrients (vitamins C and E), and a proprietary pea/rice protein base with added amino acids. As part of a heart healthy eating plan the addition of 1.8 g/day of plant sterols/stanols has been shown to lead to beneficial changes in LDL cholesterol in individuals with hypercholesterolemia.
Serving size: 2 Level Scoops
Servings Per Container:
14
These statements have not been evaluated by the Food and Drug Administration. This product is not intended to diagnose, treat, cure, or prevent any disease.

Servings Per Container:
14
Amount Per Serving
% Daily Value
Total Sugars (Includes 0g Added Sugars)
1 g
Vitamin D3 (as cholecalciferol) (400 IU)
10 mcg
50%
Vitamin A (as retinyl palmitate)
375 mcg
42%
Folate (as calcium L-5-methyltetrahydrofolate)†† DFE
340 mcg
85%
Vitamin B12 (as methylcobalamin)
3 mcg
125%
Pantothenic Acid
2.5 mg
50%
Plant Sterols‡‡ (including 700 mg beta-sitosterol)
900 mg
Alpha-Linolenic Acid (ALA) (from flaxseed)
400 mg
Rice Protein Matrix
250 mg
Polyphenols from Hops (Humulus lupulus L.) Cone Extract (standardized to 2.5% xanthohumol)
L-Cystine (Cysteine)***
160 mg
L-Isoleucine (BCAA)**
810 mg
L-Leucine (BCAA)**
1830 mg
Other Ingredients:
High oleic sunflower oil, Flaxseed, Gum arabic, L-lysine HCl, Maltodextrin, Phytosterols, Silica, Magnesium citrate, Natural flavors, ^ Guar gum, Vitamin and Mineral Blend, zinc gluconate, ascorbic acid, manganese gluconate, d-alpha tocopheryl acetate, copper gluconate, D-biotin, retinyl palmitate, niacinamide, cholecalciferol, d-calcium pantothenate, chromium picolinate, pyridoxine HCl, riboflavin, potassium iodide, thiamin HCl, methylcobalamin, calcium L-5-methyltetrahydrofolate,, selenomethionine, Dicalcium phosphate, Luo Han Guo fruit (monk fruit) extract, Xanthan gum