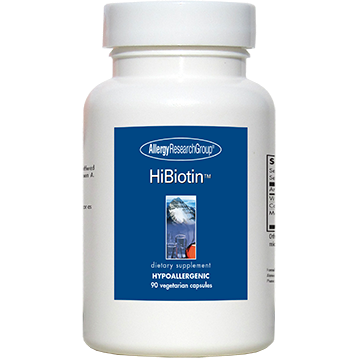 HIBiotin 100mg by Allergy Research Group High dose biotin. Biotin is an essential coenzyme for a variety of carboxylation reactions, including the activation of acetylCoA carboxylase, a crucial enzyme in the normal, healthy synthesis of myelin.* Gluten Free!
Higher doses of biotin are used for care in Multiple Sclerosis (MS) and other neuro degenerative disorders to repair the myelin sheaths.
Biotin
100 mg
Other ingredients: Hydroxypropyl methylcellulose, L-leucine, microcrystalline cellulose.
Keep in a cool, dry place, tightly capped.
These statements have not been evaluated by the Food and Drug Administration. This product is not intended to diagnose, treat, cure, or prevent any disease.