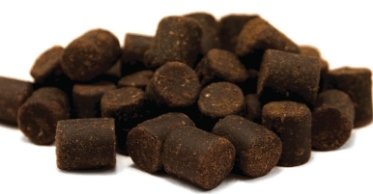 Full Spectrum CBD Soft Chew Treats (K9) 5 ounce bag (30 treats) Our veterinarian formulated canine soft chews provide a full spectrum profile of synergistic compounds that are naturally present in our zero-THC phytocannabinoid-rich organically grown hemp oil. Each soft chew is beef flavored and easy to digest. They can be used as a supplement. Specially formulated to help canines with any pain, inflammation, stress, anxiety, age related issues, and overall health & wellness.
Active Ingredients:
2mg CBD per chew
Dosage:
0.25mg/kg 1-2 Times Daily
(1mg for every 8.8 lbs)
Attributes:
Full Spectrum Profile:
Cannabidiol (CBD)
Cannabigerol (CBG)
Cannabinol (CBN)
Naturally Present Terpenes
Zero THC

Full Spectrum
CBD
Manufactured in USA
Non-GMO
GMP Compliant
All Natural
Organically Grown Hemp
Quality Excellence: Each order contains a Certificate of Analysis and Certificate of Quality Assurance. Third party testing ensures quality and accuracy of the product.
100% USA Grown Organic Hemp: Natural genetic strains of phytocannabinoid rich hemp are grown in Colorado, USA under strict guidelines using only 100% organic farming practices.
No THC: Zero THC means our products produce absolutely no psychoactive effects, or side effects associated with THC.
Extraction: Proprietary hemp extraction process ensures the preservation of nearly all beneficial hemp derived cannabinoids and terpenes while allowing us to eliminate unwanted compounds. This process ensures that our products contain the synergistic compounds necessary to produce the entourage effect which contributes directly to the efficacy of our CBD oil.
These statements have not been evaluated by the Food and Drug Administration. This product is not intended to diagnose, treat, cure, or prevent any disease