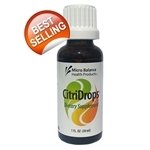 CITRIDROPS DIETARY SUPPLEMENT Description: Your gut wall houses 70% of the cells that make up your immune system. Many diseases, including allergies and autoimmune diseases, that are seemingly unrelated, are actually caused by digestive and intestinal problems. CitriDrops Dietary Supplement is designed to aid the immune system by helping to eliminate microbes, molds and viruses from the digestive tract when taken orally, and to alleviate fungal allergy symptoms in the nose when used in a nasal wash.
Citrus seed extracts have been studied and safely used for decades for their anti-microbial and anti-fungal properties. CitriDrops combines four different citrus seed extracts into one homeopathic dietary supplement for maximum effectiveness. Safe for both topical and oral use, CitriDrops is a beneficial addition to anyone's diet or nose-cleaning regimen.
Reasons why CitriDrops Dietary Supplement is unique:
It contains a proprietary blend of 4 different citrus seed extracts that make it more powerful and effective than grapefruit seed extract (GSE) alone.
It has a 30 Day Satisfaction Guarantee.
Directions: Put 8 to 10 drops of CitriDrops in 4 ounces of water to support immune function. Or, put 1 drop for every ounce of water in saline nose washes.
This product is a recommended part of the Body Treatment Protocol, developed by Dr. Don Dennis, for sufferers of Chronic Sinusitis or other mold related disease.
Product Size: 1 FL OZ
Ingredients: a proprietary blend of citrus seed extracts including grapefruit seed. Other Ingredients: Purified Water and Vegetable Glycerin
*These statement has not been evaluated by the FDA. This product is not intended to diagnose, treat, cure or prevent any disease*