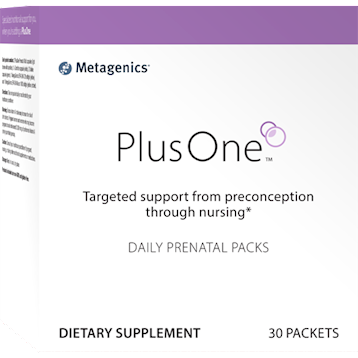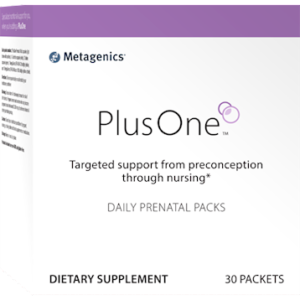 Targeted Support for Preconception through Nursing*
Targeted support from preconception through nursing*
PlusOne Daily Prenatal Packs provide comprehensive supplements to nutritionally support women, featuring vitamins, minerals, and phytonutrients, from preconception through nursing.* This science-based combination features targeted nutrition in a convenient once-daily packet.
PlusOne Daily Prenatal Packs provide:
Prenatal multivitamin support: A science-based combination of vitamins and minerals, incorporating 1 mg of methylfolate (1,665 mcg DFE) and antioxidants (vitamins E, C, and beta-carotene from mixed carotenoids) that reflect the latest research in prenatal nutrition*
Cardiovascular health and general health support: OmegaGenics EPA-DHA 720 and OmegaGenics Neuro 1000 feature high-quality omega-3 fatty acids
Fetal brain development support: Choline, an essential nutrient, is provided for additional support based on the latest research*
Free fatty acid metabolism support: L-carnitine plays a role in metabolic health and is required for the breakdown of fats and glucose into energy*
General health support: A select evidence-based combination of products featuring vitamins, minerals and nutrients to support general wellness*
Each packet contains: 2 PlusOne Prenatal Multi capsules (light brown with speckles), 1 L-Carnitine capsule (white), 2 Choline capsules (green), 1 OmegaGenics EPA-DHA 720 softgel (yellow), and 1 OmegaGenics EPA-DHA Neuro 1000 softgel (yellow, etched).