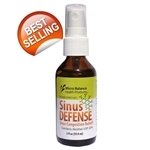 SINUS DEFENSE by Micro Balance Health Products, Inc. Description: Sinus Defense is Lac Vaccinum or homeopathic, colostrum-based Transfer Factor .
Your Body's First Line of Defense Operates Like a Security System
Discovered in 1954, Transfer Factor was discovered to transfer immunity from one person to another (example: mother/ child via breastfeeding) Sinus Defense boosts the immune system's ability to better identify, remove, and remember foreign antigens. This enables the body's T-cells, the core of our body's adaptive immunity to allergens, to effectively remove the foreign antigens.
Sinus Defense does not require physician allergy testing and administration. It can be used prior to or in conjunction with allergy shots or immunotherapy, where specific antigens are introduced to the body, enabling it to develop antibodies over time. Because there are numerous antigens and many species of mold, Sinus Defense is designed to bind to a broad array of antigens, especially mold, since mold spores exist almost everywhere.
For temporary relief of sinus congestion and irritation
Product Size: 2 fl. oz.
Active Ingredients: Lac Vaccinum 3x,6x,30x,60x,200x, Silicea 5x
Inactive Ingredients: Alcohol USP 20%, Purified Water.
Children under 12:Consult a Health Care Professional.
Do not take within 15 minutes of consuming food, beverage, or brushing teeth.
NOTE: Bottle lasts for 6-8 weeks depending on the number of sprays used.