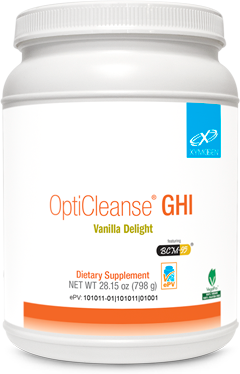 Opticleanse GHI Vanilla Delight by Xymogen OptiCleanse® GHI is an all inclusive, fructose-free, low-allergy–potential dietary supplement designed to support gastrointestinal (GI) function and balanced detoxification. It features VegaPro™, XYMOGEN's proprietary amino acid and pea/rice protein blend; Aminogen®, to facilitate protein absorption; phytonutrients; mineral amino acid chelates; and activated B vitamins, including Quatrefolic® and methylcobalamin. In conjunction with a modified elimination diet, OptiCleanse GHI addresses GI and hepatic function as well as eicosanoid balance and cytokine metabolism. This formula is suitable for vegans.†
Supports Natural Detoxification Mechanisms*
Supports Gastrointestinal Health*
Supports a Balanced Cytokine Profile*
Lactose-Free Vegan Protein Source*
See our blog post here for more information!
Blend, shake, or briskly stir 2 level scoops (57 g) into 10-12 ounces chilled, pure water (or mix amount for desired thickness) and consume once daily, or use as directed by your healthcare practitioner.
Consult your healthcare practitioner prior to use. Individuals taking medication should discuss potential interactions with their healthcare practitioner. Do not use if tamper seal is damaged.
Keep closed in a cool, dry place out of reach of children.
Wheat, gluten, yeast, soy, animal or dairy products, fish, shellfish, peanuts, tree nuts, egg, ingredients derived from genetically modified organisms (GMOs), artificial colors, artificial sweeteners, or artificial preservatives.
VegaPro™ (XYMOGEN's proprietary blend of pea protein isolate, taurine, glycine, rice protein concentrate, and L-glutamine), dried cane syrup, sunflower oil, natural flavors (no MSG), medium-chain triglyceride oil, cellulose gum, xanthan gum, Aminogen® fungal proteases, stevia leaf extract, guar gum, and silica.