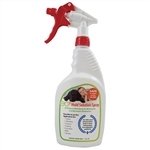 EC3 Mold Solution Spray is an all-natural, botanical, ready-to-use spray that works on contact to clear away mold spores and mycotoxins that can collect on the hard and soft surfaces of your home. Designed by Dr. Don Dennis for sufferers of mold- and fungal-related illness, this spray can be used on almost any surface and whenever needed to help maintain a healthy indoor environment. It is a proven and vital part of the Environmental Treatment Protocol, also developed by Dr. Don Dennis for sufferers of Chronic Sinusitis or other mold related disease.
Fast acting – Works on Contact
Easy to use spray bottle application
No harmful chemicals
Safe for all fabrics and leather
Designed to work with EC3 Candles
30 Day Satisfaction Guarantee
Doctor Created and Recommended
Directions:
Mist the entire house with EC3 Mold Solution Spray. Once an object or area is treated, let it air-dry. Misting can be done as often as needed. Pay special attention to carpets and rugs, as these are the largest filters that collect and retain debris in your home.
This product is safe for all materials and designed to treat mold contamination on all of your hard and soft surfaces including, floors, walls, furnishings, clothes, shoes, and even pet beds. You can even mist or use a cloth on your pet's fur to prevent them from tracking mold spores into your home! It can also be used on car interiors and in heating and air systems to prevent and treat mold formation or circulation. If an item is covered with visible mold it really is best to discard it. Caution: If applying to fine wood furniture that is susceptible to water stains, product should be misted on and then wiped off in one minute.
Application Tips:
The spray works on contact and thus, can only treat the areas where applied. It works best when used frequently to maintain healthy mold levels and to prevent a general build-up of mold in your home, office or car. Use the spray weekly or more often if mold counts are not decreasing.