Vitamin C 500 Chewable by Tonic Sea C 500 Chewable by TonicSea is a delicious, easy-to-chew tablet available in an exclusive formula that contains citrus bioflavonoids.
C 500 Chewable can help you receive the Vitamin C that you need, which plays an integral role in healthy immune support and collagen production. Supplementing with Vitamin C also helps support iron absorption, and the metabolism of amino acid L-carnitine. Every chewable tablet contains 500 mg of the Vitamin C for your support.◆
What Are Citrus Bioflavonoids?
C 500 Chewable contains 25 mg citrus bioflavonoid complex. Bioflavonoids are a group of polyphenolic plant compounds found in fruits and vegetables that provide antioxidant properties. Natural citrus bioflavonoids support well-being and fight free-radicals with their high amounts of antioxidants.◆ The addition of citrus bioflavonoids helps support Vitamin C from chemical breakdown and enhances nutrient absorption in the body.◆ Citrus bioflavonoids are also used to promote healthy blood vessels.◆
In summary, the benefits of C 500 Chewable supplementation may include:
• Supports healthy immune function◆
• Supports collagen production◆
• Assists with iron absorption◆
• Supports L-carnitine metabolism◆
• Provides antioxidant support◆
Other Ingredients :
Sorbitol, Xylitol, Cellulose, Orange Flavor, Stearic Acid (Vegetable), Citric Acid, Silicon Dioxide, Monk Fruit.
Recommendations :
Chew 1 tablet up to 3 times daily with food or as directed by your healthcare practitioner.
If you are pregnant, nursing or taking medication please consult your healthcare practitioner before taking any supplement. Keep out of reach of children.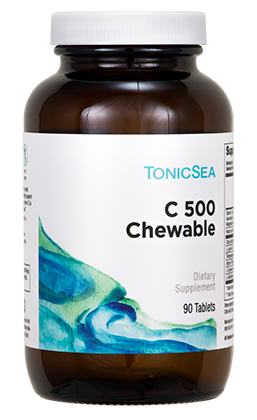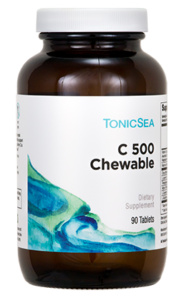 Vitamin C (as Ascorbic Acid, Calcium Ascorbate, Sodium Ascorbate, Magnesium Ascorbate)
500 mg
556%
Niacin (as Niacinamide)
18 mg NE
113%
Citrus Bioflavonoid Complex
25 mg
**
L-Lysine HCl
8 mg
**
Tetrapotassium Pyrophosphate
3 mg
**
Alpha D-Ribofuranose
3 mg
**
L-Cysteine HCl
2 mg
**
L-Glutathione
1 mg
**
* Percent Daily Values (%DV) are based on a 2,000 calorie diet.
** Daily Value (DV) not established.